Former possession of the bishop of Rodez, Sainte-Eulalie d'Olt received first prize in the category of floral villages. Saint Eulalie-d'Olt is nestled in a verdant bower on the shores of the Lot, downstream from Saint Geniez-d'Olt and upstream from Lake Castelnau de Mandailles, at the foot of the Aubrac mountains.

The church, a masterpiece of Romanesque and Gothic arts, dates from the year 900. Its shrine contains the Sacred Thorn brought from the Holy Land by the brothers Gérard and Hughes de Currières.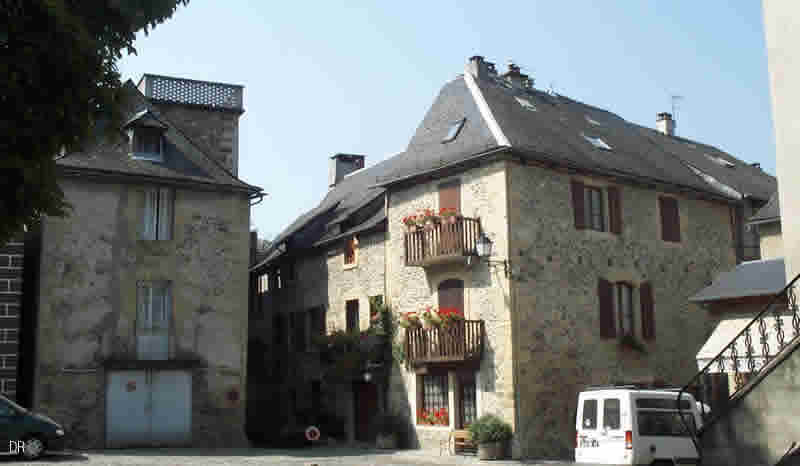 Visitors are attracted by the beauty of this place and its medieval charm, which is visible from far away. The village is dominated by the high castle silhouette.
It is through strolling within the heart of the village, however, through its narrow and tortuous old lanes, that one discovers the charm of Saint Eulalie. Secular and turreted residences built of stone from the Lot, their facades decorated with flowers. A procession is organized every second Sunday of July. Four men carry the reliquary of the Sacred Thorn, while a single man
bears on his shoulders a cross 4.5 metres long by 2 meters wide.
Not to be missed among the many events that animate the town are the feast and procession of the Sacred Thorn, the artisans'
market.
From the Place, one sees the Marcel Boudou Museum, the houses ornamented with flowers and the panoramic views of the Lot valley, a fisherman's paradise, as well as the 15th-century castle.
A lush resort, Saint Eulalie offers a wide array of entertainments near prestigious sites such as the Tarn, Conques and Aubrac gorges: fishing, bathing, hikes, horse-riding, canoeing and kayaking.