This fortified village had been well restored until the 80'S. It's not a templar's vestige but a another testimony of the fears and the needs of protection caused by the calamities and misfortunes bring by the Hundred Years War.
Around the 15th century , it'a a woman, an Abbess of a Cistercian abbey, near Nonenque, to which the land belong, who ordered the building of theses fortifications.
This square enceinte was defended by four small corner towers. And its geometrical scheme inside seemed to have really been influenced by the Cistercians with its two parallel streets.
This place, like a keep, had to serve as sanctuary. During the Hundred Year War, terrible hordes of deserters and others mercenaries installed on the Larzac plateau ravaged of the country. 
Today the fortification is in perfect condition and allows to find again a certain quite and poetic mediaeval ambiance, without no doubt this is wisdom influenced by the cistercian designers of the place.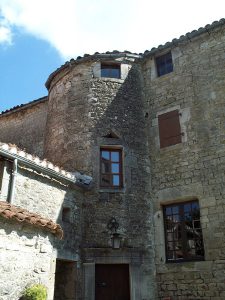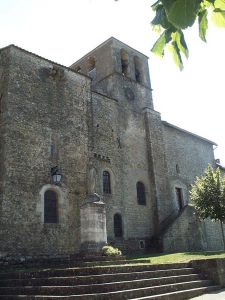 The light of the sun on the walls contrast sumptuously with the shadows of the vaults.
The side-chapel offers another opportunity to think about the cistercian origin of the all place