At the summit of this picturesque mediaeval village of Saint-Côme d'Olt is the fine silhouette of its steeple "flammé" (twisted) , which is rising above the rooftops.
By walking in the footsteps of the pilgrims of Saint Jacques de Compostelle, the visitor passes through the Theron gate, one of the three fortified gates of the city, into a maze of streets and alleys, squares bordered by ancient residences and private mansions from the 15th and 16th centuries.
The topography of this medieval town, classed among the Most Beautiful French Villages, has remained intact for 600 years.
Thus, for the traveller coming from the high plateau of l'Aubrac or des Causses, the view of the ancient estates is that which has remained literally unchanged for several centuries.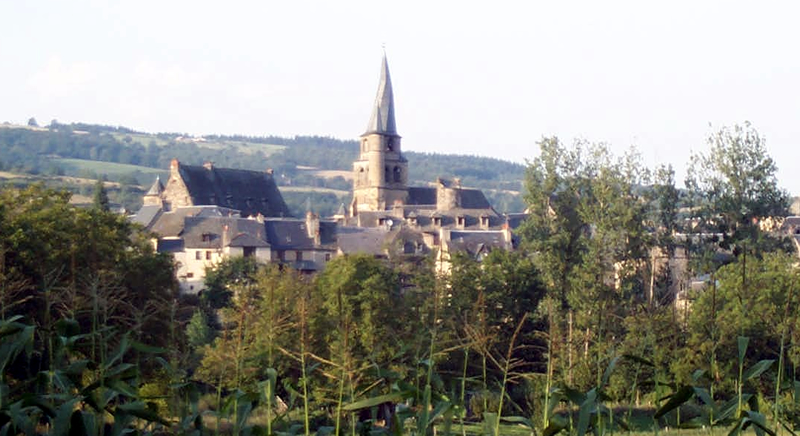 Among the most known constructions are the Caylus and Dufus houses and the home of the Consul of Rodelle. The castle, dating from the 11th century, belonged initially to the lords of Calmont. It was then transformed into residences for the lords of Castelnau de Bretounoux. Today it houses the city hall.
It was Antoine d'Estaing, bishop of Angoulême and prior of Saint Côme who built the flamboyant Gothic-style church, with its odd, "twisted" flammé steeple. It remains unknown if the spiral was intended by the builders or if the steeple twisted from the effects of its frame. In any case; during the religious wars of the 16th century and the Revolution, the steeple served as a watchtower.

A sentry service was once stationed there nignt and day. Saint Côme was constructed from 1522 to 1532 by the best aveyronnaise architect, Antoine Salvanh, who also built the Rodez Cathedral.
The church preserves the heart of Monseigneur Frayssinous, Minister of Public Education under Charles X (brother of Louis XVI), who sojourned in Saint
Côme at the home of d'Armagnac. The church interior is of Gothic style and houses a remarkable Christ in walnut wood, believed to have been sculpted by the same hand as the choir of the Rodez Cathedral.
The doors of the church are in sculpted oak; each is studded with 365 wrought-iron nails. The doors have been classified a Historic Monument. Close to the church is the old manor of the lords of Calmont, built in the 12th century.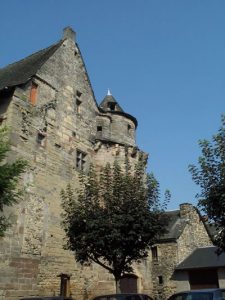 The Barrieyre gate leads to the "Lou barry del Therral", an old district the beginning of which is marked by antique shops.
As for the Lot bridge, it dates from the middle of the 16th century.
Also to be discovered on a visit to the town is the Chapelle des penitents blancs (Chapel of White Sinners), once SaintPierre-de-la-Bouysse, Saint Côme's first church. It was the seat of the Penitent religious order until 1930.