Rodez is the capital of Aveyron. A city twice millennium which derives its origin from a strong Gaulish place, an oppidum. Rodez is full of traditional historical interest. The name of its inhabitants, the"Ruthénois" is already an important clue to the visitor concerning the origins of the town. Their ancestors, the Rutenes " were good-looking, fair-haired Gaulish people who settled in this typically Gaulish oppidum.
While Christianity was spreading rapidly, thanks to Saint Amans' evangelical work, Rodez suffered under the barbarians, who overran the area following the fall of the Roman Empire. There was a succession of rulers. First of all there were the Visigoths, based in Toulouse, then the Francs, followed by the Moors, who invaded the city in 725 and destroyed the ancient Church. Later, it was conquered by the English during the Hundred Years' War.
The persistent rivalry between the local counts, who ruled the Bourg, and the bishops, who rules the ancient Cité, left its mark on Rodez' history. Tall fortifications separated the two areas. The rivalry acted as a break on Rodez' economic development.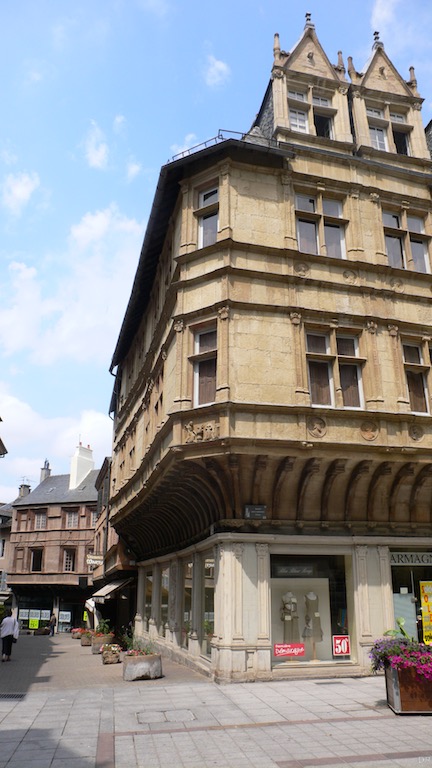 Maison d'Armagnac Rodez
However, there are still historical alleyways in the town, and numerous Gothic masterpieces of Gothic art from the XIIth to XVIth century. Above all, there is the Cathedral of Notre-Dame with its magnificent bell-tower and statue of the Virgin Mary standing 87 m. high, dominating the old part of the Cité.
In July, there is a medieval market with artisans, actors, jugglers and musicians in traditional costume. There is also the Estivada folklore festival of Occitania, where there is a cultural revival in the streets and halls in Rodez and there are number of free concerts and shows given.
One of the greatest challenges to the established British order came from Rodez, and its impact is still being felt 200 years later. The bell-tower of Rodez Cathedral was the meeting point of two scientists, Delambre and Méchain who left Dunkirk and Barcelona to measure one ten-millionth of a portion of a quarter of the meridian. This great invention, made during the French Revolution, was named meter !
For a long time a little sad, even according his most famous citizen, the painter Pierre Soulages, the city has experienced a new youth in recent years and especially in 2013 with the opening of the Soulages Museum. The old center was renovated.

For the daily life, Rodez in Aveyron and a bit like Paris in France, the city concentrates a large part of the population of the department. Nearly one in three Aveyronnais lives in the area of Rodez which explains the trafic every morning on the rocade.
Where to sleep in Rodez ? At the Bowling Bastide Hotel.