A native of Rodez, the abstract artist Pierre Soulages, is world renowned for his contemporary paintings.  His works are on display in some ninety museums.
The artist does not hold a grudge against his native town where he spent his childhood, despite the sense of confinement that he experienced in the rue Combarel – "between prison and asylum", as he later defined it.  It was there, in fact that he felt the call of the great desert-like spaces such as the volcanic plateau of Aubrac in the Massif Central of France.
Pierre Soulages has made two important donations to his native town of Rodez.  The gift comprises some five hundred paintings representing the bulk of his work, dating from post-war to his style of work known as "Outrenoir".  Also included are a series of paintings on canvas and works on paper, such as lithographs and etchings, sculptures and preparatory works for the 104  stained glass windows of the Romanesque Conques Abbey where Soulages recalls the importance of the Abbey to him; 
« I often visited Conques during my childhood – I was born in Rodez. It's in Conques that I experienced my first artistic emotions. »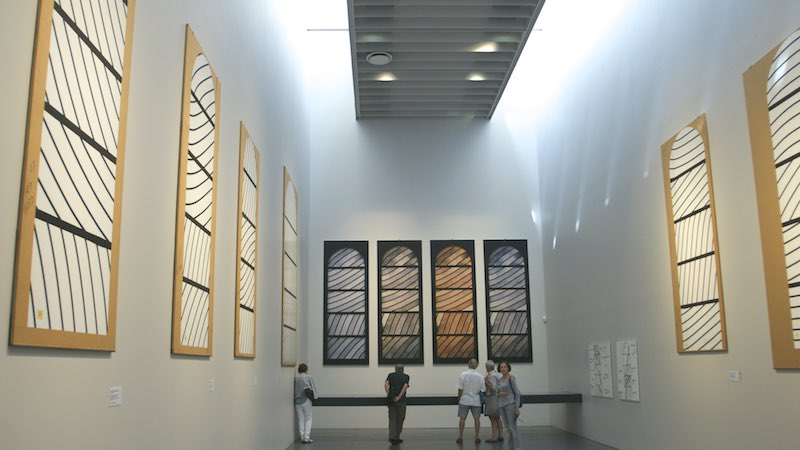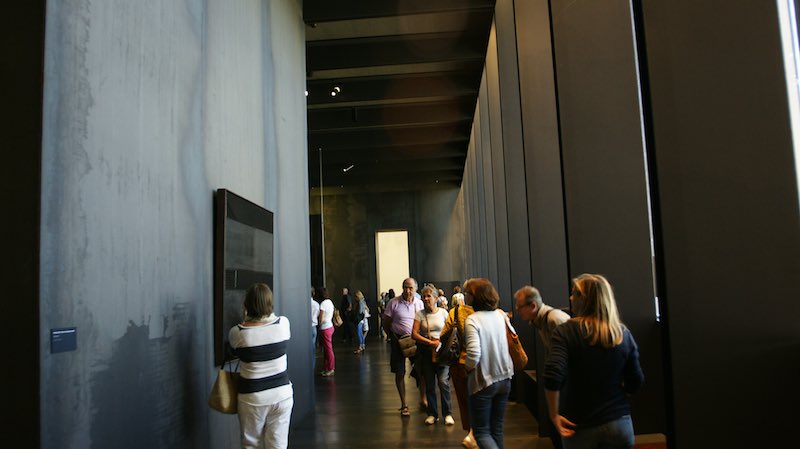 In 2013 the town of Rodez built a museum on the Square of Foirail to house the artist's invaluable donation estimated at €40 million.  The building is most sympathetic to the site and nature of its surrounding.   The site selected was originally the cow market so that the starkness of the Corten steel which forms a succession of volumes designed as boxes almost suggests the intersecting parallels of a cow pen.  Furthermore, as the material corrodes with the weather the rust colour suggests the shades of the countryside and even recalls the work of the artist himself.  This sensitive museum design is the work of the young Catalonian team of architects Passelac & Roques.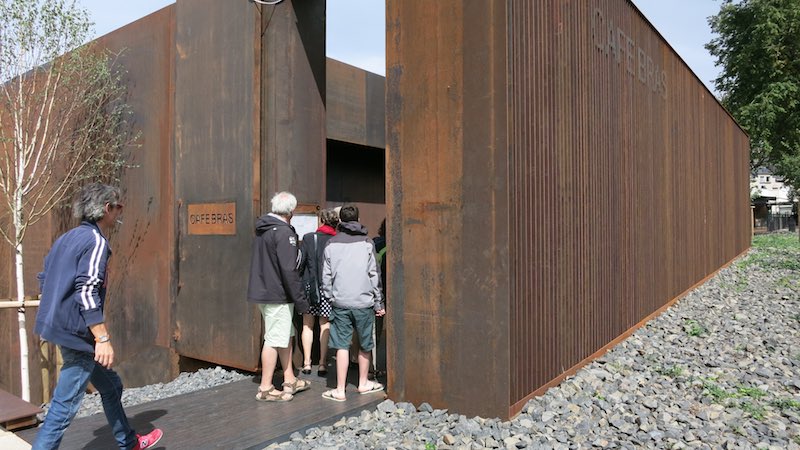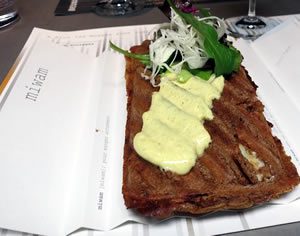 In this same building resides the sleek and contemporary Café Bras, the creation of the three star Michelin chef, Michel Bras and his son, Sébastian. There are two possibliitlies:  the Côté Comptoir which is simple, but sophisticated and the restaurant with a menu.  Here you can savour some of the typical fare of Aveyron or, if you are adventurous, the MiWam, a culinary invention of the younger Bras. It consists of a panoply of vegetables, meat or fish, a pinch of herbs and spices wrapped in a wholegrain waffle which gives it a crunchy texture and its surprising shape.
Where to sleep in Rodez ? At the Bowling Bastide Hotel.