For over a century, L'Hôtel de la Muse et du Rozier has stood as one of the most famous names in the Gorges-du-Tarn area. However magnificent the countryside may be, the Grand Hotel matches it. A beautiful design, in and out, wonderful sight-seeing, perfect services, make it a destination second to none.
Warm and heartily, a serene atmosphere
"We're having a true love affair with our Hotel", claim Sandrine et Jean-Philippe Bonneville, the owners. "This is a passion, one we need to share. That's why we'll try to make your stay with us an unforgettable time, full with pure happiness – and these gorgeous landscapes. The whole Grand Hotel team has for only goal to help you spend the most exciting time you ever heard of !"
Jean-Philippe and Sandrine have enjoyed to make it live up to 21st century's high standards. This is where any demanding traveller may seek peace, comfort, as well as, come what may, fabulous raids in the wild ! Their partnership with a well known designer helped Jean-Philippe and Sandrine giving their hotel that smooth, up-to-date while cozy atmosphere which recalls of some of the best restaurants in Paris.
This « Hotel De la Muse et du Rozier » has to be understood as a warm, heartily resort, where one can relax and feel at home. But there's also a lot to do – for instance, let's go for a trip in the Gorges du Tarn, up and down, to the inscrutable green river down there, or up to the Causses, chasing wild eagles and other scavengers, by foot, riding mountain-bikes, whatever… And then, in the evening, hang around the pool, have a dive, or lazily lay down on one of the beaches alongside the river. On top of all, rest on the terrace, a cocktail in your hand, to gaze at the mysteries of the hills around, or just let your thoughts wander with the whirls of the stream beneath…
The Chef has brought with him a powerful taste for country flavored products. Which go by numbers, from local delicatessen (charcuteries régionales) to Tarn trouts. The Chef is determined to try each and everyone of them, visiting local producers on a daily basis. But he also wishes to broaden minds and palates, by giving here and there an exotic touch to a traditional cooking which may tend to be a little too … traditional ?
35 rooms and suites classified 4-star serviced by a lift all facing the river.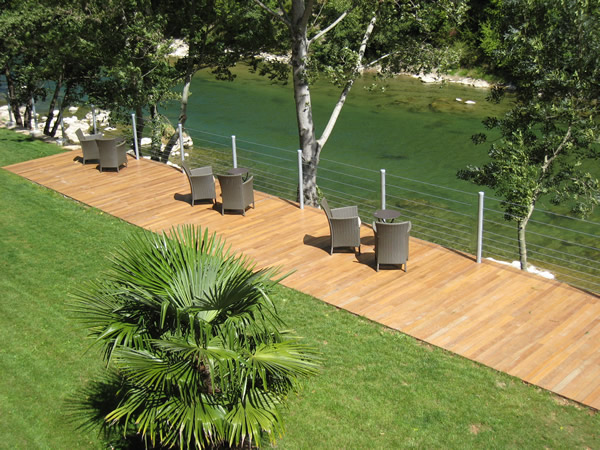 In summer, a light menu is offered for lunch along the river. See our Summer Card
The Bar (reserved for hotel guests) is open from 15h to 23h daily.
Breakfasts are served from 7:30 am to 10 am in the dining room or on the terrace when the weather permits. They can also be served in your room, extra charge.
Hôtel de la Muse et du Rozier
D907-La Muse-
12720 Peyreleau-le Rozier
Phone : (33) 5 65 62 60 01 – email: info@hotel-delamuse.fr
See the Website