The mediaeval city of Estaing,one of the most picturesque, is located in north Aveyron, at the mouth ofthe Lot River gorges and at the foot of the Aubrac Mountains.
Classed among the Most Beautiful French Villages, Estaing (population 610) gained importance over the centuries through its rich heritage, notably; the Gothic bridge on the Lot River and its beautiful wrought-iron cross, created by Henri Lesueur (1908-78).
On the bridge appears the statue of François d'Estaing, bishop of Rodez, who was responsible for its construction from 1501 to 1529.
The Gothic bridge (16th century) over the Lot River, travelled by the pilgrims.
Not to be missed are: the castle owned by the former Président de la République (1974-1981) Valery Giscard d'Estaing ; the church dedicated to Saint Fleuret, patron saint of the town; the Ouradou Chapel; the Collège; the Renaissance-style houses; and the footbridge with its stone balusters.
The church of Saint Fleuret
The church was built on the remains of an 11th-century Roman priory. It dates from the 15th century and houses the relics of Saint Fleuret. Every first Sunday of July, Estaing celebrates the feast of its patron saint, former bishop of Clermont, who died in Estaing in 620.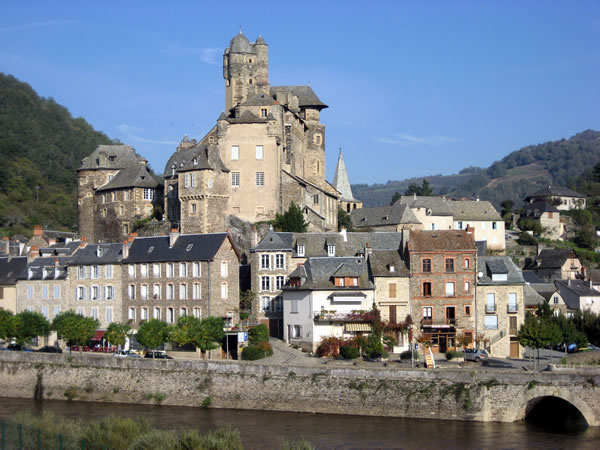 The feast includes an hour-long procession across the town, ending at Saint Fleuret. Celebrated for the last four centuries, the feast gathers approximately 200 actors in period costume. They revive the town's illustrious historical personalitites, such as Tristan Dieudonné, lord of Estaing, who saved King Philippe Auguste at the battle of the Bouvines and who, as a reward, received the permission to affix a fleur de lys to his coat of arms. Three men and a woman dressed as pilgrims also participate in the procession, equipped with the appropriate big hats, flasks and walking staffs.
At the altarpiece of Saint Fleuret appears a statue of Saint Jacques.
The town is perched on a rocky outcrop, as a road curves. At its centre overhangs the imposing castle. It is characterised by square dungeon, covered by a dome and flanked by high, fortified sentry cabins. The castle architecture is particularly astonishing because it does not respect any precise plan. It was constructed by successive generations of the Counts of Estaing between the 15th and 16th centuries. In the Estaing line, cardinals followed warriors and warriors followed cardinals.