Beneath the arcades of the rue de Castiglione, only a few yards from the Place Vendôme, Causse has opened its first Parisian Boutique, in the heart of historical quarter of tailors, boot-makers, glove-makers and other jewels of luxury craftsmanship. Here Causse presents its collections of gloves with their timeless style.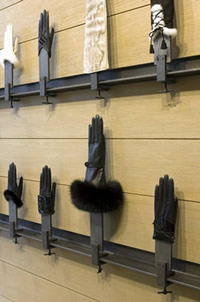 All the gloves are made in the Causse's factory of Millau which can be visited all year long. The town of south aveyron was historically a Mecca  and glove manufacture. The tanners have for centuries held the secret of fashioning the material so that the glove is like a second skin, on the hand.
Lamb, peccary, stag, python, ostrich : the most noble, supple and thin skins are rigorously selected to give the gloves an exceptional quality.
In the hands of craftsmen and women, some models of glove require more than one hundred operations in ordre to transform, the skin little by little : parcelling up, dampening, stretching, cutting up, trying out cutting out, : and then making, webbing-out, trimming, decorating : then sewing saddle stitch, lapped scam or others stitches on machines, or perhaps by hands.
Today the richness of its know-how allows Causse to extol the completely hand-crafted nature of its gloves and although more than a century old, the company lives in the modern world and doesn't hesitate to update is precious ans exceptional heritage, drawing on old and new techniques and original materials to bring life to its luxurious ans innovative collections.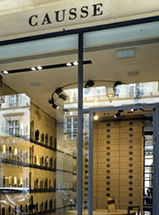 Causse
12, rue de Castiglione
75001 Paris
Phone (33) 1 49 26 91 43
Website : www.causse-gantier.fr
email : paris-castiglione@causse-gantier.fr
Open from Monday to Saturday from 10.30 AM to 2 PM and from 2.30 PM to
7 PM