Set between the valleys of the Tarn and the Aveyron, on the edge of Pareloup Lake (1200 hectares), Le Caussanel offers you Aveyron life with all its adventures. A green setting, spacious pitches, many and varied events and facilities : Le Caussanel reveals the unspoilt, authentic charme of its region. A paradise for family with young children. More details.
Indulge in the pleasures that The Caussanel, the shores of the Pareloup Lake and the Aveyron offer.
We are eager to guide you during your stay and to purpose various activities for you to discover with your family or friends : fishing, sports and outdoors activities, walks in the countryside and visits to uncover mysteries of The aveyron and surrounding area. Enjoy the tranquility and relaxation, meeting people and sharing those moments of conviviality during day and evening events.
You will enjoy yourself in the swimming pool and aquatic area with the outdoor heated pool and also with the water delights beside Pareloup Lake. Every day you will find various activities like pedestrian excursions, mountain bikes, aquagym, sports tournoiment…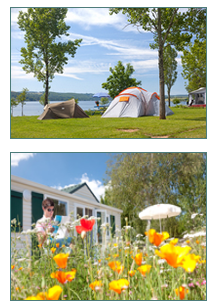 A paradise for young children
The sunny club welcomes chidren to participate in a whole range of activities without parents. Studios where you can take part in manual and artistic activities such as painting, drawing, decoration. Also preparation of lots surprises and shows… Chidren also will find a playground with little trains, toboggans, swings, climbing nets, walks and visits to the miniature farm, fishing initiation…
The région
The Aveyron region, in the heart of the South West, is a land of green valleys and deep gorges. The landscape is rolling and also covers vast streches of watre and greenery. A prime spot for the adventurous, it offers kayaking in the Tarn Gorges, hand-gliding over the Grandes Causses, or simply walks around the medieval villages of the Valley. A land rich in tradition and with a varied, living heristage, the Aveyron lives to the rythm of the landscapes and its people.

Le Caussanel
Lac de Pareloup
12290 CANET DE SALARS
Phone : (33) 5 65 46 85 19
Fax : (33) 5 65 46 89 85
E-mail : info@lecaussanel.com
More details on the website
www.lecaussanel.com
Le Caussanel, proposes 235 pitches
Ecotourism : Like jewels set amoungst the trees, the charms of this natural destination in its protected environment-that is The Caussanel. Let's discover and respect surroundings.
Discovery : Local products and well-known places are the pretext to your adventures in the different natural regions of the Department.
Open :
from 22/05 to 09/09/17
Early Booking -10% !
Offer of 10% discount for all booking validated before the 15th of January 2017… Do not hesitate !