Camping Roc de l'Arche is the ideal campsite to enjoy the water as well as all other conveniences. It is located alongside the Lot in the beautiful town of Espalion famous for its Renaissance Palace.
Our campsite has several types of pitches half shadowed which have a minimum measurement of 100 m².
Each pitch is separated by small bushes. You are sure to find a pitch to your liking!
* a pitch without electricity
* a pitch with electricity
* a pitch Grand Confort (direct connection to electricity, water and waste water drainage)

Perhaps you prefer to rent a mobil home ? In that case you are lucky as we also have 10 mobil homes Grand Confort 31 m² which can accommodate 6 persons (5 adults and 1 child younger than 10).
For all pilgrims wanting to have a roof above their head for one night, we rent our mobil-homes in low season to 1 to 4 persons.
You have free access to the municipal swimming pool which is located at the entrance of the campsite.
You do not need to take your car to go to the village centre because our campsite is just 300 m away from the heart of Espalion.
You would like some entertainment?
In high season young and old can participate in several activities organized by us or by exterior partners.
You would like to organize a small reunion?
We offer our services to organize gastronomic evenings for groups who would like to reunite for a special occasion.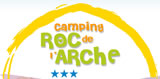 Camping Roc de l'Arche in Espalion
Le Foirail –
12500 Espalion
Phone/fax. 00( 33) 5 65 44 06 79
Email : info@rocdelarche.com
http://www.rocdelarche.com/camping-aveyron.html