After travelling along the country roads of Auvergne and Carladez in the northern Aveyron region, you will round a bend to discover a peninsula : a protected site on the banks of the lake of Sarrans between the Plateau of Aubrac and the mountains of the Cantal.A peaceful haven, far from the commotion of the city : it is the four stars Camping La Source that awaits you.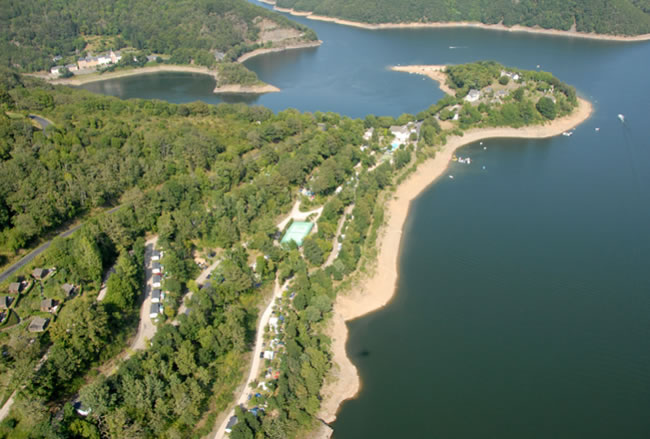 The Sarrans Lake is a an ideal place for bathing ; fishing ; canoe hiring ; pedal-boats and motorized small boats.! Its elevated location guarantees you a breathtaking view of the lake and forest greenery.
La Source lies on 5 hectares of terraced land with unobstructed views of the lake and lush forests … Take a deep breath of fresh air at an altitude of 650m …La Source is built on a hillside with a difference in altitude of 60m making it a fantastic setting overlooking Sarrans Lake. You can't cross the large sloped embankments separating the 600m long terraces. During your stay with us you will only have 2 neighbours: one on the left and one on the right. The access road is at the back and lake views are at the front.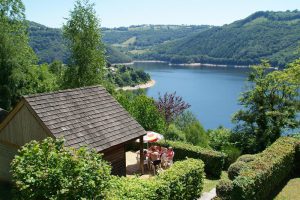 Ours chalets for 6 and 7 people are situated at 600 m from reception, and from swimming-pool and activities.
Car-park at 50 m.
Access through pedestrian ways (15 %) and stone stairs.
80 camping spaces warrant you calm and quietness ! Every space is delimitated and furnished with drinking water, electricity and water draining.
Activities and equipements
A large swimming-pool (with a view on the lake) and ots long toboggan (40 m ) and a special one for the youngest to paddle.

The Swimming-pool
– our installations : area for child's play ; volley-ball ground; petanque and ping-pong table (all free) – mini-golf-course and tennis-court (paying)
– our animations
– in the campsite (all free) : child's club ; sport tournaments ; dance parties ; game and entertainments.
– out of the campsite (paying) : sightseeing ; trecking ; canyoning ; astronomy ; horseback riding …Mur-de-Barrez : houses, church and chapel.
Vallon and its castle from the 12th century : grand site stand on a stone ridge and overlooking the "Gorges of the Truyère".
Camping La Source
Presqu'île de Laussac
12600 Thérondels
Phone : (33)5.65.66.05.62
More details on the website of the camp
www.camping-la-source.com