Located on the Lot Valley at 8 kms from Figeac, l'Auberge de la Diège is a perfect place to enjoy and discover some of the best spots of south-west, like Conques, Cahors, Gorges du Tarn and Figeac.
The Nicoulau family welcomes you in a peaceful environment, at the border of a small village with 150 inhabitants and will do everything so that you will enjoy your stay. Auberge de la Diège is run by the Nicoulau Family since 32 years. It has becomed a very famous adress on the Lot Valley.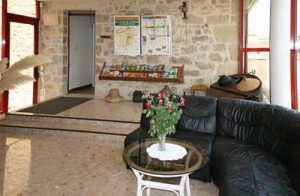 Flavours and local gastronomy
At l'Auberge de la Diège, you will appreciate some of the most reknown recipes of french south west cooking, like lamb sweat bread with mushroom sauce, duck breast and confit and of course home made duck liver and smoked trout.
28 rooms **
2 for disabled people ,TV + 5 international chains, bathroom or shower, telephone, hair dryer. 21 are equipped with mini-bar and air conditioned.
Seminary room , Parkings , Saloons, Bar, Restaurant
Room from 50 to 92 € (for 5 people)
L'Auberge de la Diège
St Julien d'Empare
12 700 Capdenac
Phone : (33)5.65.64.70.54
email :Hotel@diege.com
More details on
www.diege.com/
The Rodez airport is at 55 km from Auberge de la Diege, 45 minutes by car. The hotel is located just at the limit of Aveyron and Lot at only 8 km before Figeac when you come from Rodez.
Bungalowws for 2 to 6 peopple from 190€ to 530€/week